RIDERS sessions are held at beautiful and comfortable guest ranches across the country, including Sylvan Dale Ranch in Loveland, Colo. In customizing Team RIDERS sessions, we also conduct the winter sessions at Grapevine Canyon Ranch—another excellent site in sunny Arizona.

Sylvan Dale Ranch
Sylvan Dale Ranch is nestled in the Colorado Rockies at 5,325 feet and rises to 7,500 feet at Cow Camp and Cedar Park Meadows. The summer sky is incredibly blue, autumn is crisp and colorful, winters are mild, and spring fills the valley with beautiful fragrances.
Well furnished accommodations are provided in your choice of either a cabin or individual room in the Wagon Wheel Lodge. Every room has a single-, double- or queen-sized bed with its own bathroom and plenty of space to make yourself comfortable. Lodge and cabin rooms might be described as "plush Western."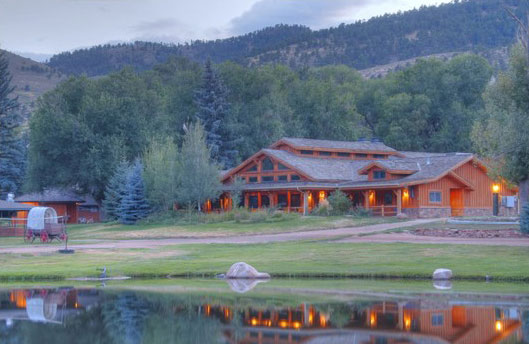 Sylvan Dale Ranch is seven miles west of Loveland off US Highway 34, 18 miles from Estes Park, and an easy hour's drive from Denver. For those who fly, bus service is available directly from Denver International Airport to Loveland, where the Ranch van will meet you. Arrangements can be made for charter bus transportation directly to the ranch. Private aircraft land at the Loveland-Fort Collins Municipal Airport.


Grapevine Canyon Ranch
Grapevine Canyon Ranch is located in Pearce, Arizona, a pleasant one hour drive from Tucson.

Accommodations at Grapevine are first rate - cozy, comfortable, yet spacious. All accommodations have numerous amenities for your convenience, including coffee pots, bathrobes, pool towels, hair dryers and refrigerators. The Faraway Lodge can house up to nine guests in three separate accommodations. It has a spacious porch and a large screened Arizona Room with comfortable chairs for lounging. Shady groves of Arizona oak and manzanita provide seclusion for the ranch buildings.